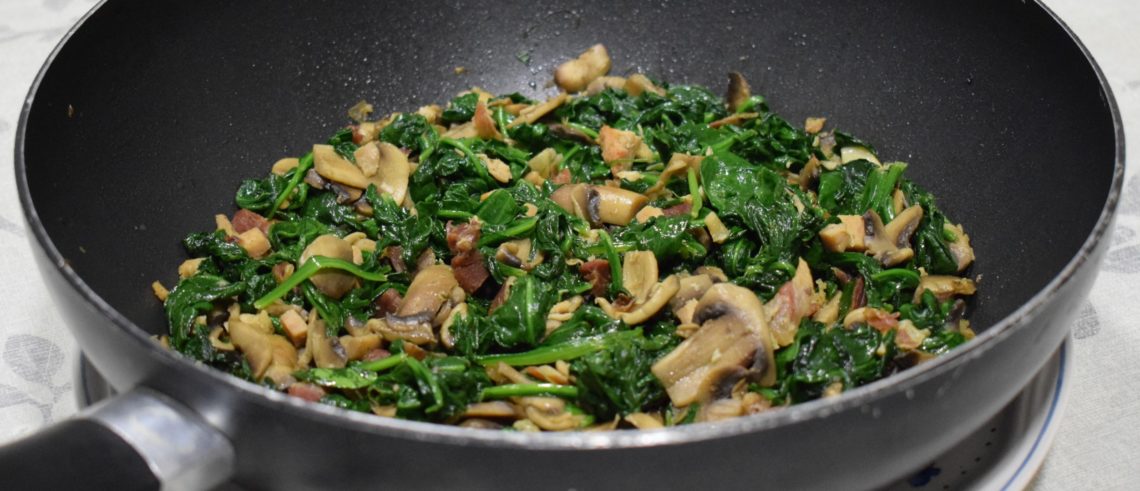 Sautéed Spinach With Mushrooms
21st April 2020
This is a light and vegan recipe that can be prepared easily in a couple of minutes. It can easily be for 4 or more people. And it is very versatile because it can be served as a main course or as a garnish. It can even be used in sandwitches, to cook pasta or as the filling of a crepe.
The main ingredients of this dish are very healthy and nutritive. Mushrooms, for example, have a satiating effect, making them ideal for weight loss diets. And spinach is rich in minerals and vitamins.
---
Recipe Note
Details of this sautéed spinach with mushrooms recipe for 4 people.
| TIME | DIFFICULTY | BUDGET |
| --- | --- | --- |
| 10 minutes | easy | low |
---
Ingredients
300 grams spinach
200 grams mushrooms
2 garlic cloves
Olive oil
Salt
---
Instructions
1 In a large wok pan heat two teaspoons of olive oil over medium-high heat.
2 Chop the garlic cloves and add them to the pan.
3 Wash the mushrooms by brushing them with a cloth, cut them into thin slices and sauté until tender.
4 Add the spinach (in batches if necessary), season with salt and stir until it is well cooked. You will notice it is ready when the spinach turns dark green and it is completely wilted.
5 Serve immediately.
You May Also Like
10th March 2020
2nd March 2020
19th April 2020