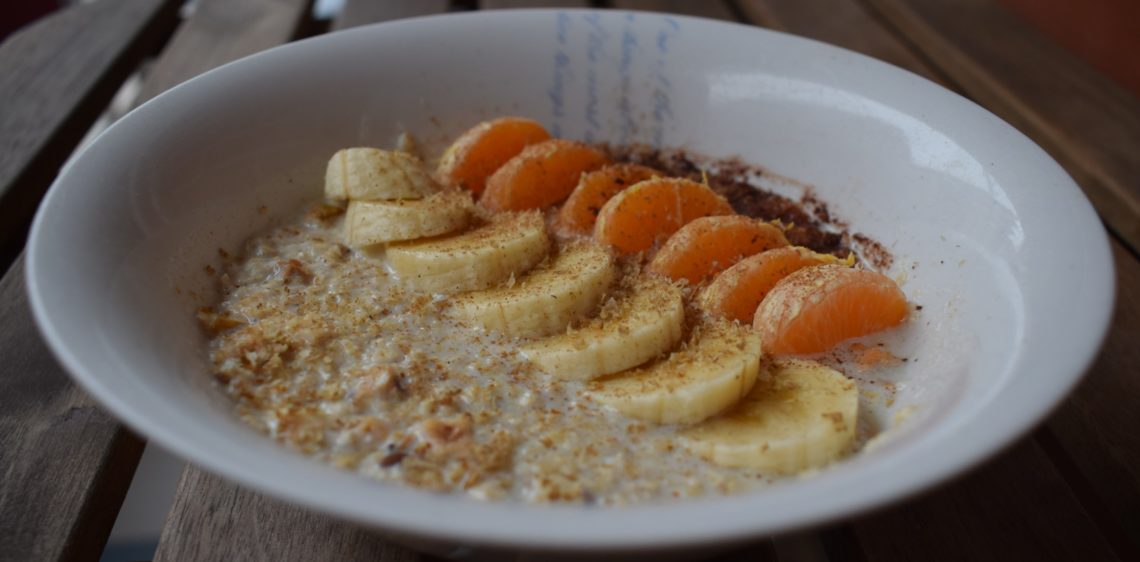 Banana & Mandarin Orange Porridge
15th April 2020
Porridge is a breakfast dish that has become very popular nowadays among Instagram users. This is because is a very photogenic dish. In addition, it is very healthy and nutritious. It can be prepared in 5 minutes and it is such a complete dish that it will help you deal with hunger from morning to noon.
The porridge recipe is very versatile and can be accompanied by a wide variety of both sweet and salty ingredients. In this case, this recipe is prepared with banana and mandarin orange slices.
---
Recipe note
Details of this banana and mandarin orange porridge recipe for 1 person.
| TIME | DIFFICULTY | BUDGET |
| --- | --- | --- |
| 10 minutes | very easy | very low |
---
Ingredients
30 grams oat flakes
200 ml milk or water
1/2 stick cinnamon or 1 teaspoon cinnamon powder (optional)
1 banana
1 mandarin orange
---
Instructions
1 Mix the oat flakes, the milk and the cinnamon in a saucepan and heat over high heat.
2 When the mixture begins to boil lower the heat and cook for several more minutes stirring occasionally. Be careful and watch out the oat does not stick to the bottom of the pan.
3 Remove and serve. Finally, top the porridge with banana and mandarin slices.
You May Also Like
1st March 2020
23rd March 2020
17th May 2020